Weekly Overbought / Oversold Ranges for the week of Jan 14-21, 2018. Moving Average overlay on mean reverting standard deviation taking volatility into consideration. Very similar to Bollinger Bands.
Bitcoin is acting differently in the last week or two. It's "cooled off"  as retail buying slows. The token is trading closer to fair value and reverting to the mean, than extremely overbought. Perhaps the CBOE & CME futures contracts recently listed are facilitating increased hedging?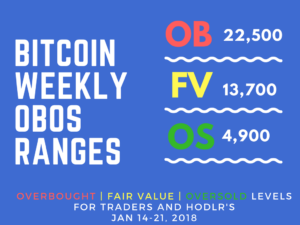 Learn more about investing in the Enterprise value of Blockchain stocks at: https://lnkd.in/eBbVFEX
Not investment advice. Cenacle Capital owns positions in Bitcoin, Ethereum and other digital tokens.
For educational purposed only.
Please read our disclaimer at www.cenaclecapital.com