Weekly Overbought / Oversold Ranges for the week of April 1 -8, 2018.
Moving Average overlay on mean reverting standard deviation taking volatility into consideration. In other words, stocks, bonds, & commodities trade back and forth like a pendulum on a grandfather clock. How big the "arc" of swing, is the annual volatility.  It's very similar to Bollinger Bands.
Ethereum is -92.25% oversold compared to Bitcoin at -52% oversold.
Selling pressure continues with many different opinions for the cause.  The token is trading closer to OVERSOLD
Perhaps it's tax selling? Lack of ICO'? Statements by Vitalik? Nobody knows for sure.This is why we feel US stocks and ADR's seeking to monetize blockchain is a better, long term approach than holding crypto.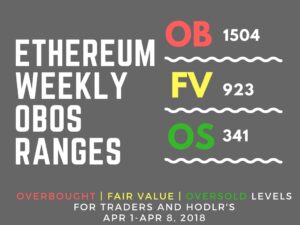 Learn more about investing in the Enterprise value of Blockchain stocks at: https://lnkd.in/eBbVFEX
Not investment advice. Cenacle Capital owns positions in Bitcoin, Ethereum and other digital tokens.
For educational purposed only.
Please read our disclaimer at www.cenaclecapital.com