#Bitcoin Weekly Overbought / Oversold Ranges for the week of December 31- Jan 7, 2018.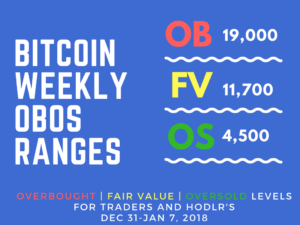 "Insanely high transaction fees plus the FOMO by retail investors could mean #Bitcoin is ready for a pullback in 2018."
Learn more about investing in the Enterprise value of Blockchain stocks at: https://lnkd.in/eBbVFEX
Not investment advice. Cenacle Capital owns positions in Bitcoin, Ethereum and other digital tokens.
For educational purposed only.
Please read our disclaimer at www.cenaclecapital.com